These workshops are great!
Wednesday, May 4, 2022 by Therese Porter | Spring Newsletter
Song writing is EASY!
Eoin Fallon delivered a 1-2-3 easy-peasy, lemon-squeezy 'how to' workshop on Songwriting last Saturday. When he played the chords that form the basis of about a million popular songs, the one that jumped out of my head was Let It Be by The Beatles. There is a rudimentary recipe, which if you follow it, you cannot go wrong! Like all creative processes, song writing basics are a gateway or as Eoin put it, a painter's palette to musical expression.
There is yet another workshop lined up for May and it is all about HOW TO PRACTISE! I really would like to see most of you attend this one!
There are methods and techniques which lead to efficient, effective learning. Techniques that can create a flowing, flawless performance. I hope you will join me on Saturday May 21st at 2pm in EGS, room 20 for this very interesting and helpful support to our body of work at the school.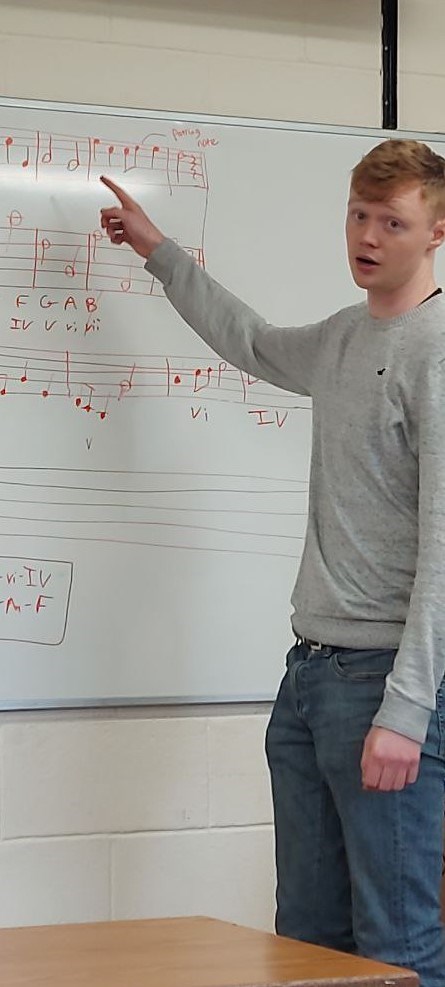 We also have
concerts
that same weekend. You can find the times and days on your student portal. Did you know you can also access your account details and online resources including lesson notes!
I have asked all of my students to print their notes and create a booklet for the summer. That's right, another strategy on how to practise...
There will be more news to follow about our Summer Charity Event to raise finds for a disabled child AND a survey from the school to parents about the September term.
You will also see end of year assessments on your portal in late May. These are guidelines for summer work and plans for continued study in the 4th quarter of this year.
See you at the
next workshop!
Best wishes til then,
Kerry and the team.
Easter Blessings
Sunday, April 10, 2022 by Kerry Anderson | Easter Newsletter
Warmest good wishes
for this Easter.
I thought I'd take this opportunity (a two-week break) to share news about all that is coming up at the music school for you, our cherished members. And to wish you all a happy, healthy Easter Break.
Workshops Series Continues.
After a very successful Uke Can Do It workshop, I am very happy to announce that our April workshop will be offered on Saturday the 30th at 2:00pm. It is run by Eoin Fallon and he will instruct attendees on How to Write a Song as follows:
1. Understand the Theory behind writing a song.
2. The importance of a time signature.
3. Understanding keys and chords.
4. Melody writing
5. Chord progressions / writing a base line.
6. Harmony and counterpoint.
By the end of this class every participant will be able to write a song with ease.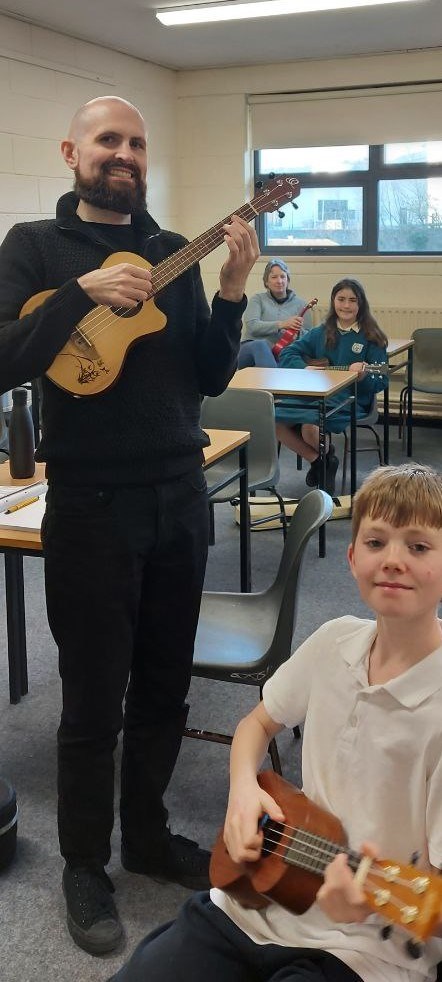 Tomas and students
making instant music
with their Ukuleles.

A Summer BBQ to raise funds for one lucky family!
I am putting out a request to you, our students, to nominate a family with a disabled child who would benefit from use of a mobility trike. If you know of any child in your family or circle of friends, please contact Therese via email: info@wicklowmusicdrama.ie The first message received and confirmed will be the lucky recipient.
The event will be held on July 24th in the East Glendalough School field, and I would be thrilled and extrememly grateful if a parent or parents would join me in organising this event. We will get the support of Variety, the Childrens' Charity. You can see what amazing work they are doing on their Irish website here:
https://varietyireland.org/what-we-do/our-programmes/mobility-program/
A mobility trike changing lives of whole families.
Don't forget School concerts are coming up NEXT month, on the weekend of May 20th.
I'd like to wish our Leaving Cert. students the very best for their practicals coming up this next week.
Classes resume week of April 25th!
Have fun and don't forget at least 5 out of 7 days for practise - always!
Here's the thing...
Sunday, February 27, 2022 by Therese Porter | Mid-Term News
Why does musicianship class matter?
The answer to this question is best answered with a metaphor. A house can only stand and remain standing, with a good solid foundation.
So the 30 minutes with an instrumental tutor are to monitor and develop the physiological skills required to master an instrument. During lesson time the WSMD tutors must instruct a student in the the ways to use their body to create dynamics, tone, and speed. Without musicianship classes, time must be spent on how to read and interpret the score.
My students will know all too well that the magical balance for clear, natural and expressive phonation depend on the unique interaction of their vocal tract with breath. We don't learn how to sight read the score together. We DO monologue text because the text contains the meaning.
My piano students learn how to hold their posture, their hands, and how to achieve the tactile connection with the keys that produce dynamics, staccato, legato.
What we do in musicianship class...
"…for me, it's a complete distraction of the mind, and very creative. They always come out happy. They have sport on Saturdays too, but musicianship is almost like mindfulness in that it takes them into a window of focus. It's gentle, creative and nice. They both have music in school but it's a big class and the penetration is limited so progress is slow. The class would be lucky to be able to play one tune together by the end of the term. In the WSMD musicianship class there is real progress and joy" Tim Cummins, parent.
Musical concepts are taught though active participation in singing, playing games, playing musical instruments especially percussion, and listening to music. Skills in pitch and rhythm are developed in the same way, with lots of practice of singing melodies , performing/composing rhythms as an integral part of the classes. Solfa names and rhythm syllables are used to great effect in the development of these skills. The students also learn to write down the rhythm and melodies. The ultimate aim is to develop the ability to hear in ones head the music seen on the page and to be able to write down in musical notation what is played or sung.
The role of the tutor
Tutors must have teaching skills that create psychological safety in the classroom. In my class, where students are primary school age, and are at beginner level, there is no wrong answer. All answers reveal what is known and even better...what is not known! To date, the students in my class are now proficient in tapping simple rhythms; singing the major scale with hand signs; understanding the building blocks of the major scale and reading the grand staff. We hope to dazzle you with a performance as an ensemble in the May concerts.
Other options
Busy weekend schedules make Saturdays a challenge, but if you are free we have 1:00pm for beginner and 8:45am for advanced. Tutor Tomas O'Durcain is now offering a class each Wednesday for intermediate level students, particularly those preparing for an exam. If you would like to learn more about this class, please contact the school at 0863265820.
Alternatively, students who prefer one-to-one tuition can add 15 minutes or more to their lesson time in order to work through musicianship books with their tutor.
Finally...
The physiological control of the instrument is a conduit to the self expression that musicianship interprets.
- Kerry Anderson, BMusEd, MAPVP
Director, Wicklow School of Music & Drama - Celebrating 20 years!

Please contact us at
on Facebook or
Twitter: @wwmusicdrama
To view our Privacy and Cookie Policy please click HERE
COVID-19 Update - tuition is available online.