Natural Voice Method - free lecture this Saturday
Thursday, March 23, 2023 by Kerry Anderson | Uncategorized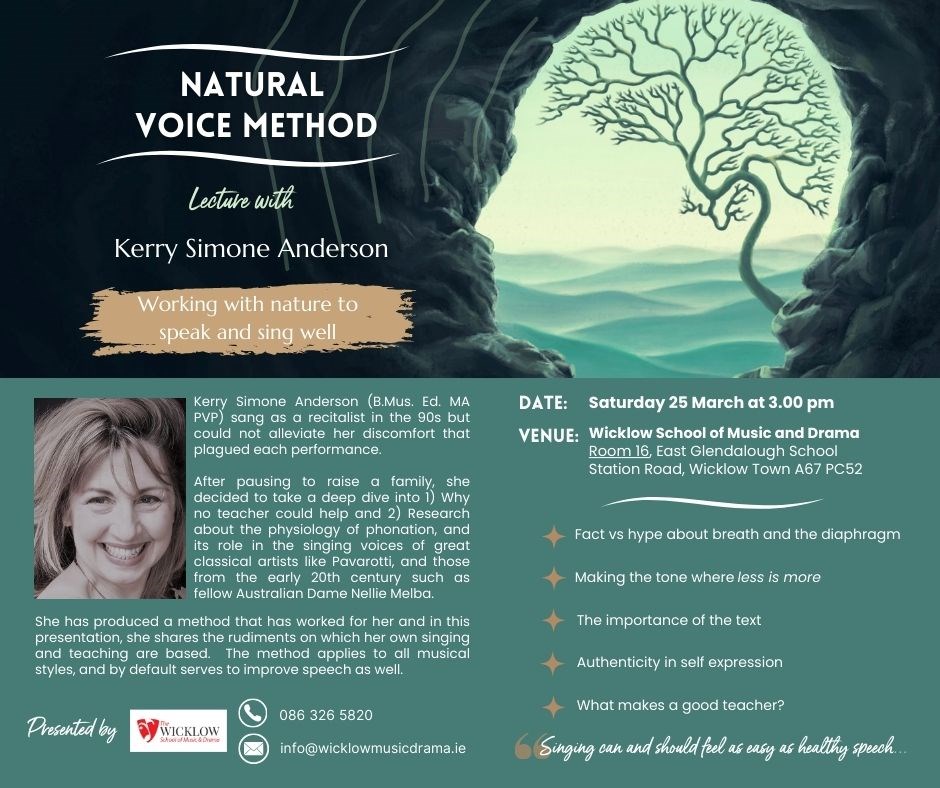 Natural Voice Method
a lecture with
Kerry Simone Anderson
Saturday, 25th March at 3pm
EGS, Room 16
Singing with the ease of speech is the aim of this method and in this lecture, you will learn;
* ways to check the function of your vocal cords
* a little anatomy
* how to start training your voice
* how to choose songs
* understand the importance of text in singing
Open to all but a fee applies to non-WSMD students.
For more information please contact us info@wicklowmusicdrama.ie
These workshops are great!
Wednesday, May 4, 2022 by Therese Porter | Spring Newsletter
Song writing is EASY!
Eoin Fallon delivered a 1-2-3 easy-peasy, lemon-squeezy 'how to' workshop on Songwriting last Saturday. When he played the chords that form the basis of about a million popular songs, the one that jumped out of my head was Let It Be by The Beatles. There is a rudimentary recipe, which if you follow it, you cannot go wrong! Like all creative processes, song writing basics are a gateway or as Eoin put it, a painter's palette to musical expression.
There is yet another workshop lined up for May and it is all about HOW TO PRACTISE! I really would like to see most of you attend this one!
There are methods and techniques which lead to efficient, effective learning. Techniques that can create a flowing, flawless performance. I hope you will join me on Saturday May 21st at 2pm in EGS, room 20 for this very interesting and helpful support to our body of work at the school.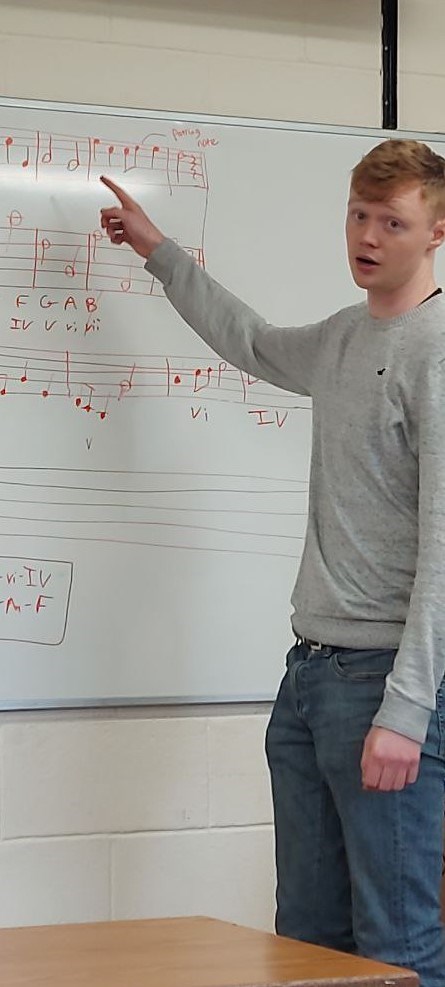 We also have
concerts
that same weekend. You can find the times and days on your student portal. Did you know you can also access your account details and online resources including lesson notes!
I have asked all of my students to print their notes and create a booklet for the summer. That's right, another strategy on how to practise...
There will be more news to follow about our Summer Charity Event to raise finds for a disabled child AND a survey from the school to parents about the September term.
You will also see end of year assessments on your portal in late May. These are guidelines for summer work and plans for continued study in the 4th quarter of this year.
See you at the
next workshop!
Best wishes til then,
Kerry and the team.
Easter Blessings
Sunday, April 10, 2022 by Kerry Anderson | Easter Newsletter
Warmest good wishes
for this Easter.
I thought I'd take this opportunity (a two-week break) to share news about all that is coming up at the music school for you, our cherished members. And to wish you all a happy, healthy Easter Break.
Workshops Series Continues.
After a very successful Uke Can Do It workshop, I am very happy to announce that our April workshop will be offered on Saturday the 30th at 2:00pm. It is run by Eoin Fallon and he will instruct attendees on How to Write a Song as follows:
1. Understand the Theory behind writing a song.
2. The importance of a time signature.
3. Understanding keys and chords.
4. Melody writing
5. Chord progressions / writing a base line.
6. Harmony and counterpoint.
By the end of this class every participant will be able to write a song with ease.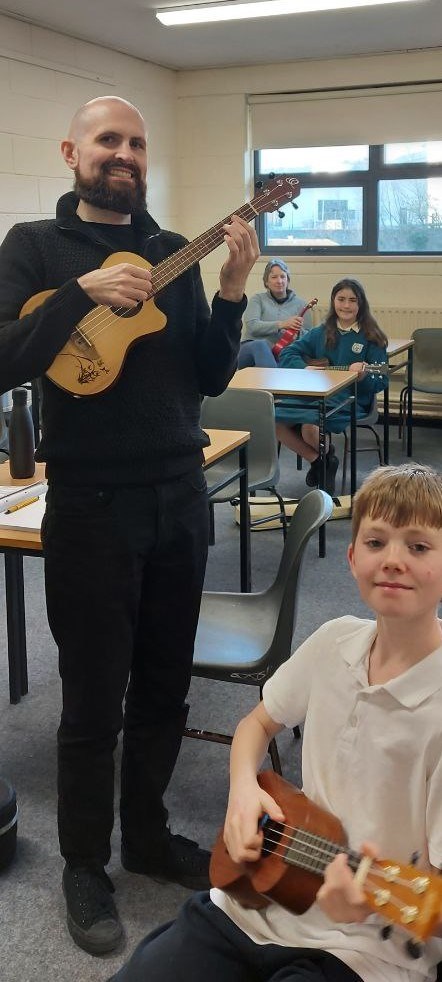 Tomas and students
making instant music
with their Ukuleles.

A Summer BBQ to raise funds for one lucky family!
I am putting out a request to you, our students, to nominate a family with a disabled child who would benefit from use of a mobility trike. If you know of any child in your family or circle of friends, please contact Therese via email: info@wicklowmusicdrama.ie The first message received and confirmed will be the lucky recipient.
The event will be held on July 24th in the East Glendalough School field, and I would be thrilled and extrememly grateful if a parent or parents would join me in organising this event. We will get the support of Variety, the Childrens' Charity. You can see what amazing work they are doing on their Irish website here:
https://varietyireland.org/what-we-do/our-programmes/mobility-program/
A mobility trike changing lives of whole families.
Don't forget School concerts are coming up NEXT month, on the weekend of May 20th.
I'd like to wish our Leaving Cert. students the very best for their practicals coming up this next week.
Classes resume week of April 25th!
Have fun and don't forget at least 5 out of 7 days for practise - always!
Please contact us at
on Facebook or
Twitter: @wwmusicdrama
To view our Privacy and Cookie Policy please click HERE
COVID-19 Update - tuition is available online.